Editing Entries
Entries are time sensitive so that accessibility to certain fields in an entry will be limited the day after the entry takes effect. Entries also have the following priority rules:
Single entries have priority over recurring entries. If you make a recurring entry, and then decide that you need to change availability for one day in the recurring entry, you can add a single day entry to override the recurring entry.
Unavailability entries have a priority over availability entries. If you have both an availability entry and an unavailability entry for the same time period, you will be designated as unavailable on the schedule.
Single day entries can only be edited up until the end of the day that they were created on. Fields in recurring entries can all be edited until the day after the entry starts. After that, the only field that you will be able to edit is its End Date. Note that all the fields except End Date are grayed out.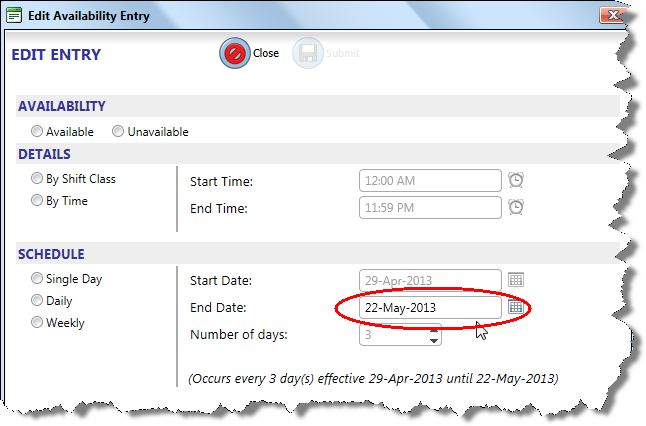 If you need to change more than the End Date of a recurring entry that has already started, you need to close the entry and then add a new one with the configuration you need.
To edit a current day entry
Click the bar of an entry on the calendar, and then click Edit Entry.

Make your changes and then click Submit to save them.
To close a recurring entry
Click the recurring entry that you want to close, and then click Edit Entry.

Click the End Date date selector, and then select the day before the current date. This will be the earliest selectable date on the calendar, as shown below.

Click Submit to save your entry.
The calendar will now just show the historical entry record.