Competencies and Recruiting
When creating a profile in Quadrant Self Service, applicants are asked to select the Skill and Education attributes that apply to them. The available choices are imported from the Competencies window in Quadrant which also determines how Skill and Education options appear on the Create Profile pages. If the available choices, or how they appear on the page, are not satisfactory you can go into the Competencies window to make changes.
In the example below, an applicant has indicated that they have Bachelor of Nursing and Bachelor of Science degrees. However, the attribute fields are different for each of the degrees when they should probably be the same. This can be changed on the Competencies window.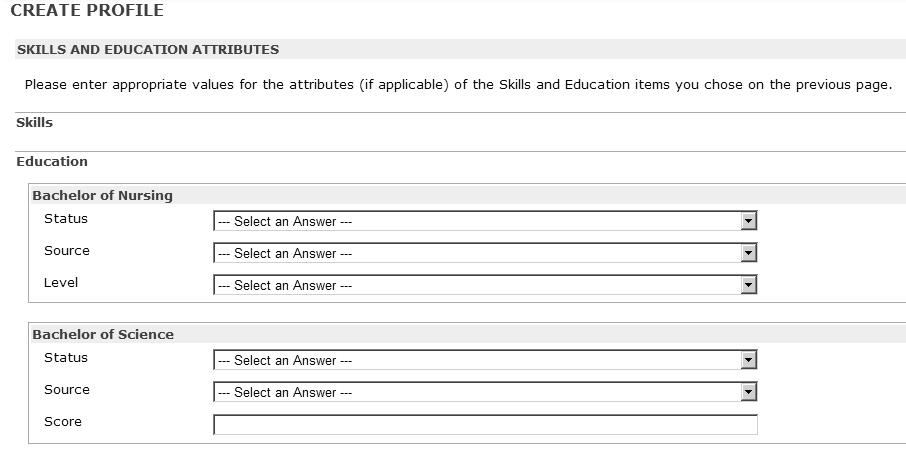 To select skill and education attributes that will appear in Self Service
Log on to Quadrant.
Open the Configuration menu, and then the Competencies window.
Select the Skills, Soft Skills, or Education tab.
Competencies and their attributes are configured the same way on each of the tabs.

In the example above, the attributes for the Bachelor of Nursing and Science degrees are different and we want them to be the same. We want to use only the Status and Source attributes for both degrees.

Select a competency in the Description pane.
The attributes that have been associated with the selected competency appear in the Attribute Selector pane.
Click Edit.
To turn off an attribute so it will no longer appear on the Create Profile page in Quadrant Self Service, click in the Web check box beside an attribute if it is selected. After the Web check box has been cleared, the attribute will no longer appear on the Create Profile page in Quadrant Self Service.

If necessary, ensure that the value selected for attributes such as Source are the same for competencies of the same type. In the example of the Bachelor of Science and Nursing degrees, the attribute value selected determines what lookups appear in the Attribute Values pane and will be available for selection in Quadrant Self Service. If University is selected for the Source attribute for the Bachelor of Nursing competency, and Source is selected for the Bachelor of Science competency, and the lookups are different for each, the choices available for selection for each degree could be different in Quadrant Self Service.
| | |
| --- | --- |
| | |