My Leave Requests
An employee or manager can review the status of their leave requests at any time.
To view a leave request
Use your user name and password to log on to Quadrant Self Service.
From the Personal menu, select Leave Request, and then My Leave Requests.
The My Leave Requests page opens.
Review your leave requests.
Note: The leave request statuses that appear on the My Leave Requests page are determined by the check boxes selected at the left side of the page. For example, if only the Approved check box is selected, only approved leave requests will appear on the page.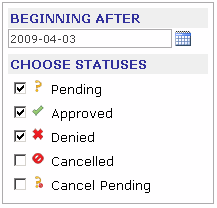 The Save button is only available when changes are made. If changes are made to a leave request, email notifications are sent to the approvers.